Facebook is killing democracy
A whistleblower from Cambridge Analytica, Christopher Wylie, described in detail how the company exploited Facebook users by harvesting their data and building models to "target their inner demons."
Wrong.
You are being psychographically profiled
Most people have heard of demographics – the term used by advertisers to slice up a market by age, gender, ethnicity and other variables to help them understand customers. In contrast, psychographics measure people's personality, values, opinions, attitudes, interests and lifestyles. They help advertisers understand the way you act and who you are.
This isn't a problem when the data are used ethically – like when a company shows you an ad for a pair of sunglasses you recently searched for.
However, it matters a lot when the data are used maliciously – segmenting society into disconnected echo chambers, and custom-crafting misleading messages to manipulate individuals' opinions and actions.
That's exactly what Facebook allowed to happen.
Quizzes, reading your mind and predicting your politics
How did Facebook let this happen?
Going shopping for impressionable users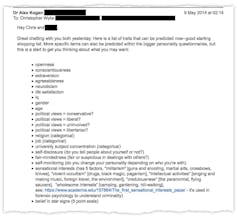 Knowingly putting users at risk
Facebook could have done more to protect users.
Changing culture and politics
A healthy dose of skepticism
U.S. history is filled with stories of people sharing their thoughts in the public square. If interested, a passerby could come and listen, sharing in the experience of the narrative.
The information that you shared on Facebook exposed your hopes and fears. That innocent-looking Facebook quiz isn't so innocent.
The problem isn't that this psychographic data were exploited at a massive scale. It's that platforms like Facebook enable people's data to be used in ways that take power away from voters and give it to data-analyzing campaigners.
---
---